Bio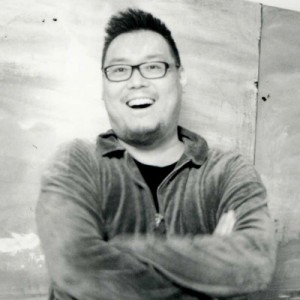 YU JEN-CHIH
ARTIST PAINTER & ART CRITIC
Painter, printmaker and art critic, born in 1977 in Taipei (Taiwan) into a family of artists and intellectuals. He studied Fine Arts at Tunghai University in Taichung (Taiwan) from 1995 to 1999, then obtained an Mphil in cinema history and sociology, at the University of Paris 1 Panthéon-Sorbonne.
From an early age, Yu Jen-chih experimented with various techniques of printmaking and painting, and participated in two solo exhibitions (1994, 1997) in his hometown.
From 2008 to 2014, he participated in several group exhibitions at the Alliance française in Bahreïn, Colombia (Bogota), Ukraine (Municipal Museum of Dnipropetrovsk), as well as in galleries and cultural spaces in France (Paris, Dinard , Brest, Quimper), Italy (Avellino) and Argentina (MACLA, La Plata).
In April 2010, he shared a large ephemeral exhibition with artist Masha S. at the Georgian National Music Center (Tbilisi).
In 2012, in Paris, he participated in the group exhibition "Donner du temps au temps" at the Espace des Blancs-Manteaux. From January to March 2014, Yu Jen-chih presented his works in a solo exhibition at the Red Zone Arts gallery in Geneva and again, in 2019, at Red Zone Arts in Frankfurt am Main. In April-May 2017, the Kwang-Hua Information & Culture Center in Hong Kong dedicated a retrospective entitled "Between titans and giants" for his engraved works.
In 2018, Yu Jen-chih produced a woodcut of 720 cm x 122 cm for his solo exhibition at Les Moyens du Bord, the art center located within the Manufacture des Tabacs in Morlaix.
In November 2019, the Red Zone Arts gallery presented his works at the Discovery Art Fair in Frankfurt am Main, then in January 2020, the Alisan Fine Arts gallery (Hong Kong) exhibited him at the Taipei International Contemporary Art Fair. Dangdai. In Paris, the works of Yu Jen-chih were shown at the Galerie Raulin Pompidou as part of a solo exhibition from March to September 2020.
Yu Jen-chih also co-authored several artists' books, including Ce qui me fait signe (with Michel Bohbot) and Measures Démesures (with Werner Lambersy, CMJN editions).
Yu Jen-chih is an art critic for magazines and newspapers in France (L'Atelier du Roman, Théorème), China (Panorama Monthly, Eastern China Daily), Hong Kong (Ming Pao Monthly, Apple Daily) and in Taiwan (INK Literary Monthly, China Times, Liberty Times, Music and Audiophile, Unitas Literature). He is the author of literary dossiers in direct collaboration with Milan Kundera, Carlos Fuentes, Fernando Arrabal, Massimo Rizzante, and of written portraits of artists such as Amos Gitaï, Mikhaïl Kobakhidzé, Patricia Erbelding (Dhalgren Editions) and Bertrand Menguy.
In May 2011, INK Literary Monthly published Interior / Exterior: Still Life and Landscapes, a work that brings together twenty texts by Yu Jen-chih on art, published in 2007 and 2008 as part of a monthly column. The book was reissued in November 2013 for China, by New Star Press.
Yu Jen-chih has lived and worked in France since 1999.