Bio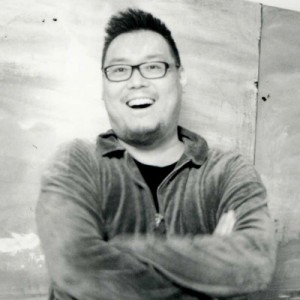 YU JEN-CHIH
ARTIST PAINTER & ART CRITIC
Artist painter and art critic. Born on 8 March 1977, in Taipei, Taiwan, into a family of artists and writers. Yu Jen-chih studied Fine Art at Tunghai University, Taichung, Taiwan (1995-1999) and holds a DEA postgraduate degree in Film History and Sociology from the Université de Paris 1-Panthéon Sorbonne.
Introduced to art from a young age by prominent contemporary artists of Taiwan such as Chu Ko, Liu Kuo-sung and Li Shi-chi, Yu Jen-chih experimented with different painting and engraving techniques and made two successful solo exhibitions in Taipei before reaching the age of twenty (1994, 1997). In the last few years, Yu Jen-chih focused on wood engraving, which helps him meditate on the stroke, volume and composition, whilst at the same time, pursuing with painting and drawing, .
Between 2008 and 2014, Yu Jen-chih participated in several group exhibitions at the Fondation Alliance française (Paris, Bahrain), Town Hall of Bogota (Colombia), Municipal Museum of Dnepropetrovsk (Ukraine), as well as in several galleries and cultural institutes in France (Paris, Dinard, Brest, Quimper), Italy (Avellino) and Argentina (Museo de Arte Contemporáneo Latinoamericano-MACLA , La Plata).
In April 2010, Yu Jen-chih shared an exhibition with Russian born artist Masha S. at the legendary Georgia National Music Center in Tiflis (Tbilisi) and took part in February 2012 in a large group exhibition "Give time to time/Donner du temps au temps" at the Espace des Blanc-Manteaux in Paris. From January to March 2014, Yu Jen-chih showed his works in a solo exhibition at RED ZONE ARTS, Geneva, which also represents him in Switzerland.
In 2013, together with Michel Bohbot, French art critic, poet and current patron of Musée des Manuscrits in Paris, Yu Jen-chih prepared an artist book for bibliophiles (Haïku with five wood engravings), "Ce qui me fait signe", in a limited hand made edition, followed by three others, "Hydrangea Macrophylla", "Je parle…." and "Milarepa" in 2016. INK Literary Monthly of Taiwan also entrusted him with a monthly column including his engraving works between 2013 and 2014.
Besides his artistic projects, Yu Jen-chih is a published author and has written for several magazines and newspapers : Panorama Monthly (China), Ming Po Monthly, Apple Times (Hong Kong), China Times, Music & Audiophile and INK Literary Monthly (Taiwan). In May 2011, his monthly column (2007) and other writings for INK were assembled together with some of his paintings and photos by INK Editions in a book entitled "Interior/Exterior : Still Life & Landscape", which was reedited in November 2011 and a new edition was specially designed by New Star Press for Mainland China in March 2013. He has also collaborated with Milan Kundera and Carlos Fuentes for their first major literary reviews in Chinese. Since 2011, Yu Jen-chih has worked with Fernando Arrabal on all of his Chinese language publications.
Yu Jen-chih has been based in Paris since 1999..